Sunny Deol is an Indian film actor, film director, producer, and politician who represents the Gurdaspur Lok Sabha constituency in Punjab. He is known as the "Angry Man of Bollywood", having won two National Film Awards and Two Filmfare Prizes.
Here are some of his best movies to watch.
1. Ghayal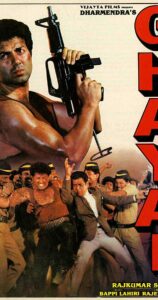 This is, in my opinion, Sunny Deol's best film. It's a tough film with a lot of drama, emotion, and action. The plot is typical of vengeance sagas, as are most movies from the 1990s, but there is a lot of corruption, which is one of the reasons for the screenplay. Above all, Sunny Paaji's commanding performance was tailor-made to play Arjun Mehra. No actor could match his performance in terms of dialogue delivery. A famous Indian movie by Sunny Deol.
Also Read: 5 Bollywood Actress Who Did Mesmerizing Belly Dance
2. Border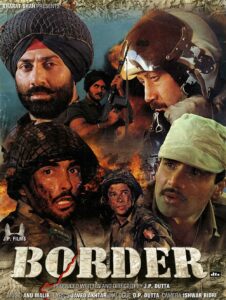 Border is Indian cinema's best patriotic movie I saw. The courageous Indian soldiers fighting for their countries is a heartwarming story. Not to mention the strong engagement of Sunny Paaji. In 1997, Border was one of the highest grossing films for the year. A famous Indian movie by Sunny Deol.
3. Jeet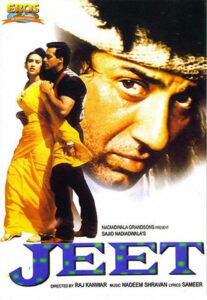 Growing up in the 1990s, Jeet was one of the favorite movies between youngsters. Many people rented the movie to watch the action packed entertainment package. If you combine the two genres, I believe Jeet is one of the best action/romance films ever made. It's a fascinating love triangle movie, but Sunny Deol is fantastic. He has excellent eyes, voice, and dialogue. Sunny Deol ruled the action genre in the 1990s, and his films did well with a single-screen audience. Jeet is a good example, and it smashed box office records. A great Hindi movie of Sunny Deol.
4. Ghatak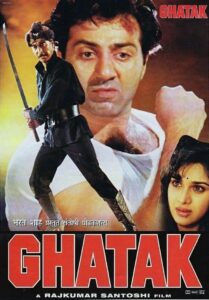 Sunny Deol and Amrish Puri had incredible chemistry and a dramatic situation to work with. Sunny plays a mighty role and has excellent dialogue in his angry young man. Danny Denzongpa is a tremendously underappreciated player, and I believe he is the villain with his best performance. Sunny Deol was rightfully named Best Actor in a Film, but Amrish Puri was named Best Supporter. A great Hindi movie of Sunny Deol.
5. Gadar: Ek Prem Katha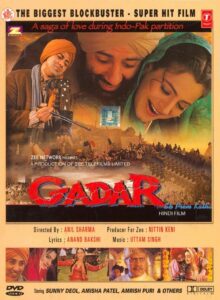 Sunny Deol delivers an outstanding performance. He was incredible, but on a few occasions, he went above and beyond all of his objectives and overdid the scenes. In terms of passionate debate, Sunny and Amrish Puri's confrontation was fierce. This movie depicts one of the Box office's highest collections, which many stars are still attempting to overcome today. Sunny Paaji was enormous on the mass circuits at the peak of his career. A great Indian film of Sunny Deol.
6. Ziddi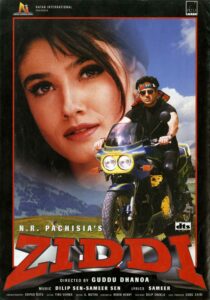 One of his best performances as an actor. Ziddi is a fun action movie with an attractive story. It has several pretty good twists which drive Sunny to claim his vengeance on the perpetrators. This movie has certain shortcomings but is a fascinating movie to look at. A great Indian film of Sunny Deol.
7. Arjun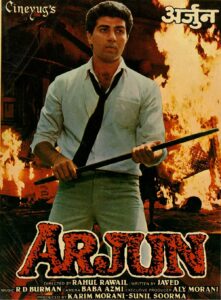 Sunny Deol began his career in romantic films before transitioning to action films. It was his first action film. Arjun has a good story, which makes this film relevant to understanding what it is like to be a young person in India. Sunny Deol is excellent in this role.
8. Sohni Mahiwal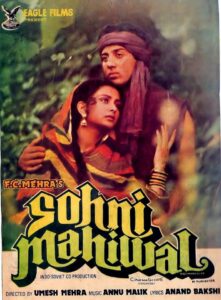 A moving film that is said to be based on a true story from hundreds of years ago. It is one of Punjab's most tragic stories, and it is fascinating to learn about. It's also very interesting. Sunny Deol was too young to play those roles at the time. Sohni's character was quite nice; indeed, Poonam Dhillon appears extremely attractive due to her innocent face and very skillfully portrayed body language. The two were drowned, which was a tragic ending
9. Sultanat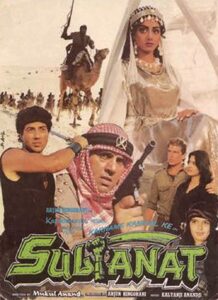 Despite the fact that it was their first time, Sunny Deol and Dharmendra delivered an excellent narrative. It was fascinating to observe the distance between both father and son. Sunny Deol and Sridevi, who both looked stunning, had action as well as romance. It was also Juhi Chawala's debut, as she played a minor role but was paired with Karan Kapoor.
10. Betaab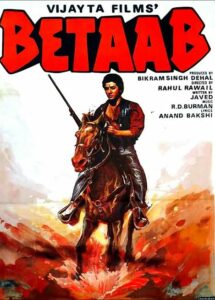 One of Indian cinema's most spectacular debuts I've seen. Overnight Sunny Deol came to prominence, but this movie started with a smash in its careers. Sunny was incredibly lovely at the time, she's a terrific love story. Amrita Singh has amazing chemistry, and both romance and drama are outstanding. There's also something pleasant about action. Moreover, the tracks were outstanding, with Jab Hum Jawan Hoge and Tumne Di Awaz being at least two of the most famous favorites songs of that generation.
Also Read: 14 On-Screen Couples Of TV That Everyone Wants To See Again
11. Saveray Wali Gaadi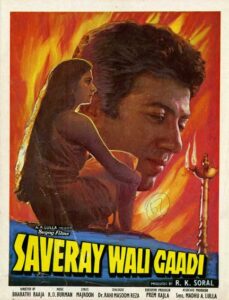 Despite the fact that some of his previous romantic films were not particularly memorable, a very good love story, this cinema is still doing its job. However, it was a pleasure to watch, and the storyline is quite good. Sunny Deol and Poonam Dhillion have good chemistry, as they did in their previous films. On the screen, I believe their chemistry is underappreciated, but they appear to work well together.
12. Samundar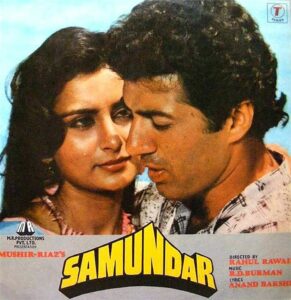 Unquestionably a fantastic film and a pleasure to watch. This is a typical vindication film, but the plot is quite good. The cinematography shot in the Maldives was stunning. Sunny Deol and Poonam Dhillon looked great together, and it was a pleasure to see their on-screen chemistry in this film.
13. Vishwatama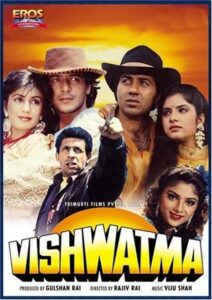 Vishwatma was one of the favorite movies for a kid growing up in the 1990s. It's one of the best action films in Indian cinema, and many of us must have seen it on VHS several times. This video takes you on a journey across Kenya to catch the bad guys with Sunny Deol and Chunky Pandey. The car chase sequence in the finale is a thrilling image. Following Sunny and Chunky's underestimation, Naseer determines who the guilty parties are. Sunny Deol, Naseeruddin Shah, and Amrish Puri all deliver strong performances.
14. Zor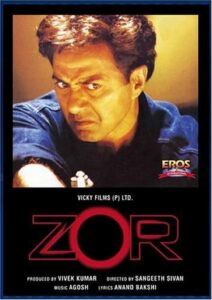 A fantastic, action-packed, and fascinating film. This film contains a great deal of drama and patriotism, which adds to the overall quality of the picture. Sunny Deol, as usual, is fantastic and provides fantastic dialogue. Sushmita Sen excels in her brief appearance, and Anupam Kher is outstanding.
15. Kshatriya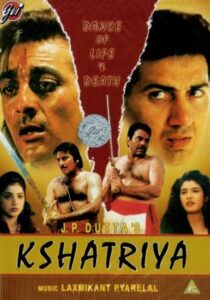 Kshatriya is an underappreciated film with a strong narrative. It also has a strong cast. Sunny Deol, Sanjay Dutt, and Vinod Khanna are all of the same age. All four players performed admirably. Raveena Tandon looked stunning, and she and Divya Bharti performed admirably. Sunny Deol and Sanjay Dutt's fight was incredible.
16. ChaalBaaz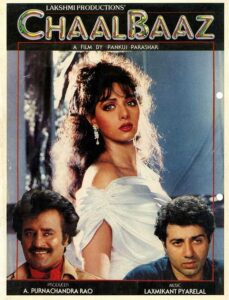 Chaalbaaz, in my opinion, mostly revolved around Sridevi and it can be considered that it is more of a Sridevi film, but Sunny Deol and Rajnikanth both played a huge part in it. Both had good chemistry with Sridevi, and it was a two-way street. They had their time in this film.
17. Tridev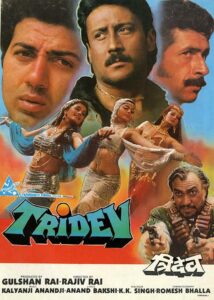 Tridev had a crashing boxing office record and it's a really terrific action-packed movie that keeps your mind busy with what's happening throughout the picture. This film was superbly directed. It was fantastic, and had an amazing cast, but I was most distinguished by Sunny Deol's performance. He carries the film and makes his character appear credible by showing such enthusiasm. Jackie Shroff, Naseeruddin Shah and Amrish Puri were all strong in their respective parts. Madhuri Dixit is good, albeit she has less screen time, but her chemistry is fantastic with Sunny Deol.
18. Damini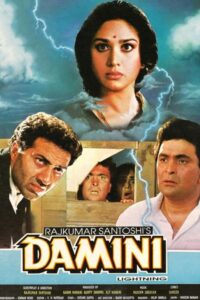 This film, in my opinion, completes Sunny Deol's acting career. Sunny Deol's outstanding performance is one of the reasons why this film is noteworthy. The fight between Sunny Deol and Amrish Puri was incredible, but so were the courts. Sunny's dialogues were fantastic.
19. Indian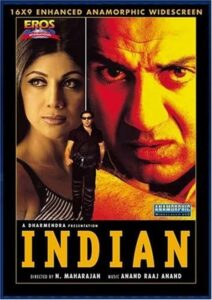 In this action picture Sunny Deol performs quite well. All that was needed was a ferocious and perfect hostility. His patriotic conversations were outstanding since he was properly mixed with his loud voice. Shilpa Shetty's fine, but her chemistry with Sunny Deol was great. A great Indian movie by Sunny Deol.
Also Read: 12 Indian Celebrities Who Are From Political Background
20. Apne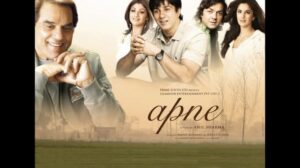 One of the best family drama films in Indian cinema. The Deols have poured their hearts and souls into this film, which has a very touching story. It is linked to a good emotional drama. I'm not a boxing fan, but he's good, and the tension was palpable with Sunny Deol in particular.