Whether you agree with the type of movies it churns out or not, you must agree that Bollywood is quite the churner of talent. It might not always be kind to an outsider, agreed, but it is also known to have nurtured talented people. Which is also a reason why people have traded their occupations for a stint - sometime brief - in Bollywood.
One such industry to have lend some of the most popular actors to the Indian screen is the modelling industry. There have been an exodus of models to Bollywood, in an attempt to reach stardom. But only a few have made it big, fewer to stardom.
So, naturally now we have quite a handful of actors with a past career in modelling. Here are a few who have made a name of some sort - some of them are superstars, some not so much. But what is noteworthy is the journey, which is quite evident in the pictures.
Aishwarya Rai Bachchan
The most beautiful woman in the world gave up her education for a career in modelling. Before becoming a successful actress, she had a successful modelling career too. She was featured in the American edition of Vogue and also a few commercials before she won the Miss World pageant in 1994.
John Abraham
Long before entering the film industry, Abraham was already one of the most recognizable faces in the modelling industry. His popularity was given a boost when he won the Gladrags Manhunt in 1999.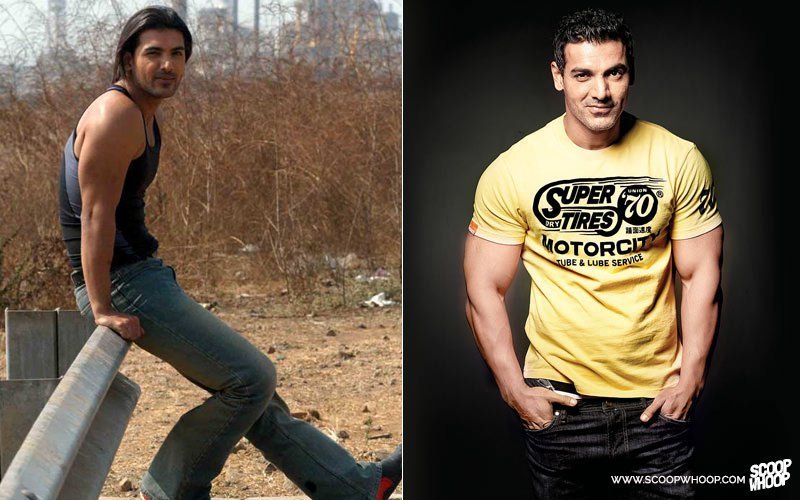 Arjun Rampal
Like John Abraham, Arjun Rampal too was a supermodel and quite the force in the modelling circuit. He debuted in a leading role in the 2001 flick Pyar Ishq Aur Mohabbat .
Priyanka Chopra
Although her modelling career has nothing on her acting one, she has been one of the more popular models. She then won the Miss World pageant in 2000 before joining the film industry.
Deepika Padukone
Her modelling career was as successful as her acting one - that is saying quite a lot. She was signed by international brands and she even won the Model Of The Year at Kingfisher Fashion Awards. She even featured in the Kingfisher Swimsuit Calendar in 2006.
Sushmita Sen
Sen was relatively unknown before she won the Miss Universe pageant in 1994, becoming the first Indian woman to win it. After that she went on to conquer Bollywood with her million-dollar smile.
Milind Soman
In all fairness, Soman is more of a model than an actor. He was a supermodel - ruler of the ramp in those days. He created quite a following of rabid fans after featuring in Alisha Chinai's Made in India video in 1995. These days he is being referred to as the Ironman.
Anushka Sharma
Like her acting debut, her modelling debut was also quite grand. She walked the ramp for Wendell Rodricks in 2007 after which she went to pursue a career in modelling in Mumbai. Not much later, she delivered a certain blockbuster movie called Rab Ne Bana Di Jodi .
Lara Dutta
Lara Dutta is quite an achiever when it comes to her modelling career. She won the Gladrags Megamodel in 1995. She then went on to win the Miss Intercontinental Pageant in 1997 and the Miss Universe pageant in 2000. However, her career in Bollywood could never reach the same peak.
Dia Mirza
Mirza was a model for tv and commercial advertisements. She gave up her college education because it was difficult to juggle studies and a modelling career at the same time. This petite beauty won the Miss Asia-Pacific in 2000, which opened the doors of Bollywood for her.
Bipasha Basu
Basu won the Ford Supermodel Contest in 1999 and went on to become a successful international supermodel. She created a mark in both her acting and modelling careers and have become an inspiration to others.
Katrina Kaif
Katrina was a model at the age of 14. She made an appearance in the London Fashion Week, where she was discovered for her first Bollywood movie.
Randeep Hooda
This macho hunk is a brilliant actor, as evinced from his movies. His acting ability and his looks are second to none. Even though he is more popular as an actor, he had a short stint on the ramp as well as on tv and print commercials.
Dino Morea
Discovered by Prasad Bidappa, Morea came in second in Gladrags Manhunt contest and continued his modelling career. He soon starred in his debut film but failed to leave a noticeable impression.
Neha Dhupia
Her modelling career is mostly restricted to her Miss India days, which she won in 2002. Her acting career also more or less resembled her modelling one. Both her stints saw some major achievements but eventually lacked longevity.
Gul Panag
Panag was crowned Miss India in 1999. She had already featured in tv and print commercials by then. After she came to Bollywood, she delivered some memorable movies like Dor , Dhoop , Manorama Six Feet Under , Ab Tak Chhappan 2 and tv series Kashmeer .
Samir Soni
Although Samir Soni is more of an actor than model, he had quite a fair run in modelling. More than Bollywood, he starred in the small screen and became quite a household name.
Siddharth Malhotra
Malhotra started modelling at the age of 18. Despite being successful, he was quite unsatisfied with the profession and switched to Bollywood. He is one of the emerging stars of the Hindi film industry currently.
Upen Patel
Patel's contribution to Indian cinema is debatable at best. But he was shot to fame because of his modelling career. He was crowed the Model of the Year four times, consecutively, by Asia Fashion Award. He also featured as one of the top 10 sexiest men in Asia for five years in a row.
Parvin Dabas
He was more of a tv commercials model than a ramp one. The transition from advertisements to cinema was not very momentous. Although he did deliver movies like Khosla ka Ghosla and Monsoon Wedding , he was unable to sustain it.
Jas Arora
He had quite the female following during his modelling days. Women loved him and his dimples. But his acting career was not even half as memorable as his modelling one.
Zeenat Aman
She was easily one of the greatest models to have turned actor. She won the Miss Asia Pacific in 1970 and mesmerized an entire nation. Her successful modelling career was only bettered by her successful acting career.
Juhi Chawla
This actress started off her career as a model before she was crowned Miss India in 1984. Bollywood opened its doors for her and she made the most of it.
Lisa Ray
Ray is more of a model than she is an actress, being names as the ninth-most beautiful woman of the millennium. But she has featured in some amazingly offbeat movies and proved that you don't need a long career to make your mark. She is also quite an achiever, philanthropist and also a cancer survivor.
Freida Pinto
Okay, to be fair Pinto is more of Hollywood star than Bollywood. But we are going to cheat. But before her big debut in Hollywood, she was a model. In fact, her modelling agency shortlisted her for her role in Slumdog Millionaire .
Diana Penty
Even though Penty is known for being a model, she made quite a grand debut in Cocktail . But her modelling career is more flourishing with both international and national stints.
Smriti Irani
Probably not a name one would expect on this list, but she started her career as a model before appearing in roles for the small screen. She was one of the finalists in the Miss India pageant of 1988. She then starred in Ekta Kapoor's unending saga Kyunki Saas Bhi Kabhi Bahu Thi . She has taken a pretty different route after that.