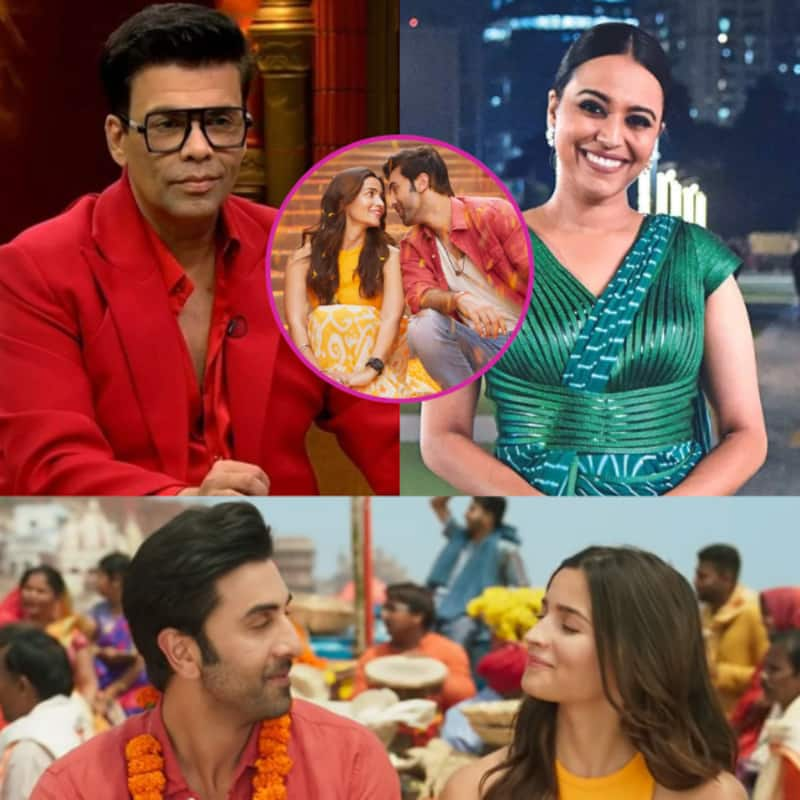 Alia Bhatt and Ranbir Kapoor starrer film Brahmastra is minting money across the globe. And the box office figures of Brahmastra have been the talk of the town ever since. On day 2, Brahmastra minted Rs 160 crore worldwide (gross). And while the movie buffs who enjoyed Brahmastra are celebrating the same, there are a lot who've questioned Brahmastra box office collection. Just the other day Kangana Ranaut questioned Karan Johar and asked for an interview regarding the same. And now, Swara Bhasker has reacted to a tweet of a journalist talking about inflated Brahmastra box office collection.
Swara Bhasker REACTS to Brahmastra Box Office tweet
It so happened that a journalist posted a tweet about the most talked about thing in Entertainment News lately, the Brahmastra Box Office. The journalist tweeted out asking 'some legal guy to sue Karan Johar for spreading lies about Brahmastra box office'. A lot of people have reacted to the tweet and so has Bollywood actress Swara Bhasker. The actress shared a picture of the tweet and REACTED to the same with a lot of laughing emoticons.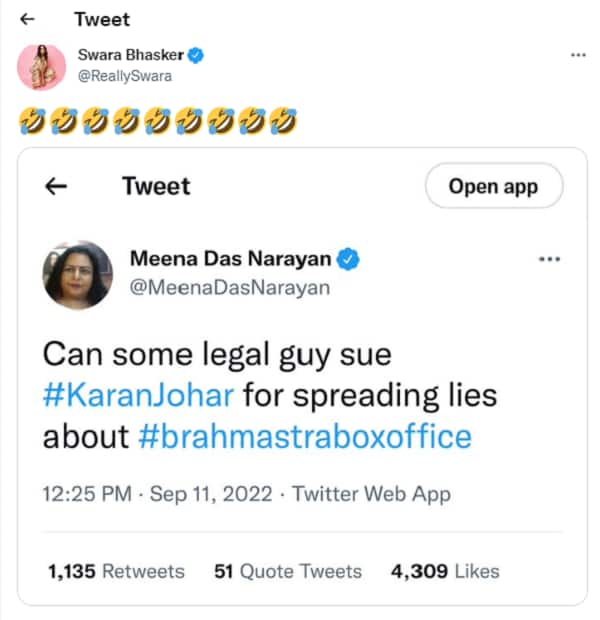 Swara's tweet gets a mixed reaction; netizens in a fix
Ranbir Kapoor and Alia Bhatt starrer has left fans in a fix. There are some who've enjoyed the movie whereas there are others who have issues with Bahmastra as well. While the critics have panned the movie, the opposite box office figures have been a subject of discussion. The journalist (Meena Das Narayan) and Swara's reaction to the Brahmastra box office collection also got a mixed reaction from the netizens. Check out the tweets here:
Meanwhile, a couple of hours ago, visuals of empty theatre halls and pictures of ticket availability on the ticket booking app sparked a debate on the Brahmastra's BO collections. Recently, Kangana Ranaut also questioned Karan Johar on why he is not sharing the nett figures and also hinted at the gross figures being inflated.