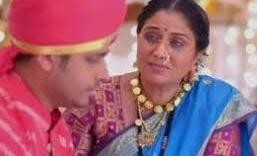 Ghum Hai Kisi Ke Pyaar Mein: Virat acknowledge Pakhi's sacrifice
Ghum Hai Kisi Ke Pyaar Mein is revolving around Virat behaving badly with Pakhi.
It seems that Virat has not been able to accept the fact that Sai is no more and he is married to Pakhi.
He will be seen behaving rudely with Pakhi even though she has been a good mother and wife.
Ashwini will make it very clear that Pakhi is very good and he should respect the sacrifice she has made for him over the years.
Ashwini will be seen telling Virat that he is suppose to be a good husband if he wants to be a good father for Vinayak.
Ashwini warns Virat
Virat will understand his mistake and will vow to give a change to Pakhi and his marriage.