There have been so many times that a blockbuster with superstars failed on the box office as it missed the most important ingredient i.e. a good story. While many film-makers believe that the sure-shot formula of a super-hit movie lies in casting superstars, the audience has proven them wrong. Be it Shandaar or Kalank or Sadak 2, even after casting superstars, many movies failed at the box office as they lacked a good story!
So, we are taking a moment to recognise the real hero of a movie – A Good Story. Here are 15 such movies from the recent times, where the real star was the story!
1. Masaan (2015)
Richa Chadha, Sanjay Mishra, Vicky Kaushal
Along India's Ganges River, four people face prejudice, a strict moral code and a punishing caste system as they confront personal tragedies. Beautifully written by Varun Grover and directed by Neeraj Ghaywan, with top-notch performances, this is a must-watch movie!
2. Ankhon Dekhi (2013)
Sanjay Mishra
This insightful movie focuses on a very critical topic of existential crisis that affects many of us as we try to fit in what society expects of us, rather than simply live life the way we want to. With an amazing performance by Sanjay Mishra, Aankhon Dekhi is nothing like a conventional Bollywood drama movie.
3. Aligarh (2015)
Manoj Bajpayee, Rajkummar Rao, Ashish Vidyarthi, Balaji Gauri
Hansal Mehta's movie starring Manoj Bajpayee and Rajkumar Rao is based on a real life incident when a professor in Aligarh University was sacked and thrown out of his house after it was discovered that he is a homosexual. Aligarh is an effective commentary on a society that is largely homophobic, but also where a segment of the population doesn't attach a stigma to it. Hansal Mehta's hard-hitting direction and effective lead performances meant that the story was told well on celluloid.
4. Kahaani (2012)
Vidya Balan, Saswata Chatterjee, Parambrata Chatterjee
The film is wickedly smart, as it follows the story of a pregnant lady in search of her missing husband. She's not searching just anywhere. Rather, this is Kolkata during the Durga Puja festivities. Kahaani beautifully integrates the chaos of Kolkata with the narrative, keeping the audience on its toes. It was one of the first films with a female lead actor to gross more than 100 crores.
5. Ugly (2013)
Anurag Kashyap's psychological thriller has an amazing variety of characters good enough for three or four Bollywood films. A little girl gets abducted while she's accompanying her father. The story of how all the adults connected to the incident try to milk it for their own gains, forms the rest of the narrative. Ugly delves into how ugly humankind can get, when the going gets tough. This is Kashyap's most taut thriller by far.
6. Black Friday (2004)
Kay Kay Menon, Pavan Malhotra
This amazing movie, by Anurag Kashyap, is based on the investigations following the 1993 serial bomb blasts. With brilliant performances and direction, this movie is a must-watch.
7. Khosla Ka Ghosla (2006)
Anupam Kher, Boman Irani, Parvin Dabas
Khosla Ka Ghosla is one of the most hilarious movies of all time. With power-packed performance and the relatable portrayal of an average middle-class person, this movie managed to be funny and real at the same time. This movie is about a Delhi-based retired middle-class man (played by Anupam Kher), who tries half-heartedly to get his land back from a swindling property dealer with the help of his sons and their friends. It is a wholesome movie that you can enjoy with your family.
8. Stanley Ka Dabba (2011)
Partho A.Gupte, Numaan Sheikh, Abhishek Reddy
If you think this is a movie for kids, then please throw your preconceived notions out the window. This beautifully written movie revolves around a teacher who forces students to share their tiffins with him and forbids one from entering the school until he brings his own Tiffin.
9. Vicky Donor (2012)
Ayushmann Khurrana and Yami Gautam
John Abraham's first film as a producer became the talk of the town when it came to light it was about sperm donation. Ayushmann Khurrana and Yami Gautam played lead roles in their debut film, and the film turned out to be a social commentary on surrogacy and the culture clash between Delhi's Punjabis and Bengalis. Juhi Chaturvedi's beautifully written scenes and Shoojit Sircar's assured direction meant that the film was a champion first production for John Abraham.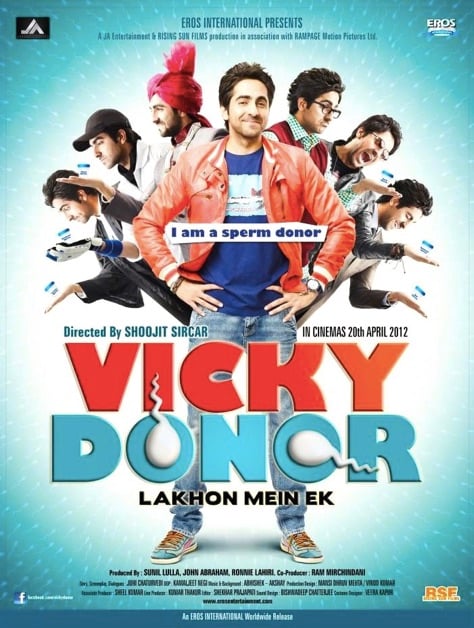 10. A Wednesday (2008)
Anupam Kher, Naseeruddin Shah, Jimmy Shergill
Neeraj Pandey's spectacular debut benefited so much from its crisp story-line. Following the incidents of a day where a man holds the entire Mumbai police force hostage in exchange for the release of 3 terrorists. The film is taut and sees the clash of two exemplary actors – Naseeruddin Shah and Anupam Kher. The story and the story alone is what keeps you hooked till the very last second of the movie.
11. Cheeni Kum (2007)
Amitabh Bachchan, Tabu
R Balki, a veteran ad filmmaker, made his first film on what some would call a dicey subject. A 62-year-old man falling in love with a 34-year-old woman, could have been something that could have scandalized traditionalists. But Balki handled the sensitive subject with remarkable deftness. Full of witty banter, Cheeni Kum hardly takes its subject matter seriously which means that the audience has a ball.
12. Taare Zameen Par (2007)
Darsheel Safary, Aamir Khan, Tisca Chopra
Part commentary on the rote system of schooling in India, and partly throwing light on dyslexia, Amole Gupte's Taare Zameen Par is a great example of how far an awesome script can go into aiding the filmmaker.
13. The Lunchbox (2013)
Irrfan Khan, Nawazuddin, Nimrat Kaur
This brilliant movie tells the simple tale in the most amazing way. The movie captures the story of two people whose paths cross because of wrong delivery. With brilliant performances of Irrfan Khan, Nawazuddin and Nimrat Kaur, this movie is a must-watch!
14. Ishqiya
Naseeruddin Shah, Arshad Warsi
Abhishek Chaubey's directorial debut is a tale of two runaway prisoners (Naseeruddin Shah and Arshad Warsi) who seek shelter in the house of one of their now-deceased partners. The house now has the partner's widow who falls in love with both the men. But nothing is what it seems, and that's where Ishqiya scores as a tale of love and betrayal.
15. Maqbool (2003)
Irrfan Khan, Tabu, Pankaj Kapur
The brilliant adaptation of Shakespeare's 'Macbeth' to Mumbai's underworld, Vishal Bharadwaj's fantastic movie is a must-watch.
More power to plot-driven cinema.
*All Images are from respective movies or movie posters.