Aamir Khan is one of the superstars that ruled Bollywood for a very long time. For his talent for making good films, the media has blessed him with the tag of Mr. Perfectionist. And, as the perfectionist Aamir Khan is returning to the cinema halls after four years with Laal Singh Chaddha, he faced brutal trolling for his upcoming movie.
As Laal Singh Chaddha is a remake of the 1994 cult Hollywood classic Forrest Gump starring Tom Hanks, netizens aren't happy. Many netizens called out Aamir Khan for blatantly copying this famous Hollywood masterpiece frame by frame.
Here's what the internet had to say:
But here's a lesser-known fact – Laal Singh Chadda is not Aamir Khan's first movie that has been heavily inspired by Hollywood. It may be the first official remake but Aamir Khan has been part of many Hindi movies that were copied from Hollywood.
Here are 11 such famous Aamir Khan movies that were remakes/copies/ inspired by Hollywood movies:
1. Dil Hai Ke Manta Nahin (1991)
Produced by Gulshan Kumar & directed by Mahesh Bhatt, Dil Hai Ke Manta Nahin had Aamir Khan and Pooja Bhatt in the lead roles. Though the movie was a super-hit, it was an unofficial remake of the 1934 Hollywood film It Happened One Night.
2. Jo Jeeta Wohi Sikandar (1992)
Another famous movie by Aamir Khan that many of us loved – Jo Jeeta Wohi Sikander – was inspired by the Hollywood movie Breaking Away. This movie broke many records and received love from the audience and critics too. The movie starred Aamir Khan, Ayesha Jhulka, Pooja Bedi, and Deepak Tijori in the lead roles.
3. Hum Hain Rahi Pyar Ke (1993)
Do you know that even the famous movie Hum Hain Rahi Pyar Ke is an unofficial remake of the 1958 Hollywood film House Boat? Yes, even Hum Hain Rahi Pyar Ke lacks originality. And, Aamir Khan co-wrote the screenplay of this Mahesh Bhatt directorial, which also starred Juhi Chawla.
4. Baazi (1995)
Much before Lagaan, Aamir Khan worked with Ashutosh Gowariker in the movie Baazi. Do you know this action thriller was inspired by the very famous Hollywood movie – Die Hard? This movie also starred Mamta Kulkarni, Paresh Rawal, and Ashish Vidyarthi in the prominent roles.
5. Aatank Hi Aatank (1995)
Another unofficial remake of a cult Hollywood movie, Aatank Hi Aatank took inspiration from the greatest movie of all time – Godfather. Aamir Khan's character took inspiration from Godfather's Michael Corleone played by Al Pacino. The film also starred Rajinikanth in a prominent role.
6. Akele Hum Akele Tum (1995)
Other than Baazi, Aatank Hi Aatank, Aamir did another movie Akele Hum Akele Tum in 1995. And, like the other two, this movie was also an unofficial remake of the 1979 Academy Award-winning film Kramer vs Kramer.
7. Ghulam (1998)
Do you know this Aamir Khan, Rani Mukherjee starrer was a remake of the Hindi film Kabzaa starring Sanjay Dutt, which was a copy of the Hollywood movie – On The Waterfront.
8. Mann (1999)
Another Aamir Khan movie that was heavily inspired by Hollywood is Mann. The movie starred Aamir Khan, Manisha Koirala, and Anil Kapoor and was inspired by the Hollywood movie An Affair To Remember.
9. Fanaa (2006)
Produced by Yash Raj Films, Fanna starred Aamir Khan and Kajol in the lead role. For those unversed, the second half of Fanaa had a lot of similarities with the Hollywood film Eye of the Needle and the 1999 Korean film Shiri.
10. Ghajini (2008)
As we all know, this Aamir Khan movie was a remake of a Tamil film, which was heavily inspired by Christopher Nolan's famous film Memento.
11. Dhoom 3 (2013)
Though the movie may have broken multiple records, no one can deny that this movie under the Dhoom franchise was heavily inspired by Christopher Nolan's famous movie The Prestige.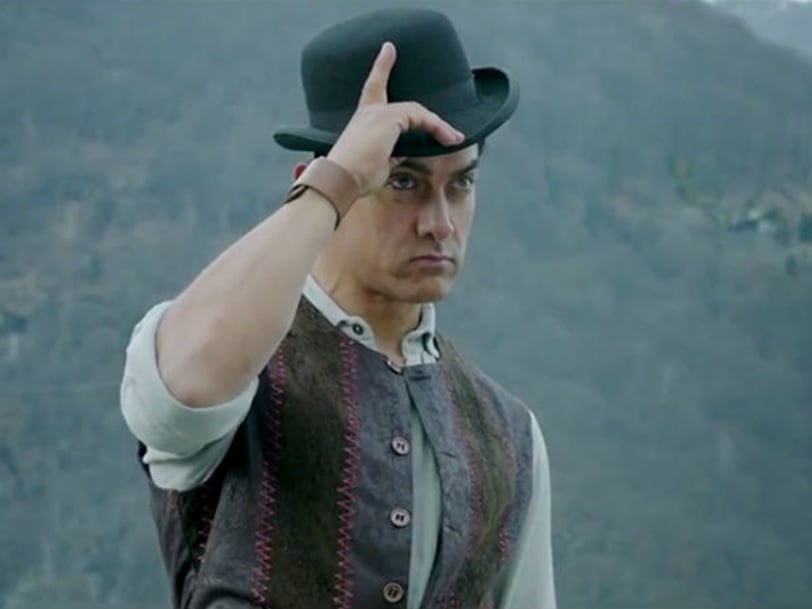 After going through the list, if you are also thinking that Bollywood seriously lacks originality, then you are not alone. In times, when people have access to the best films across the world, Bollywood has to seriously re-think its remake strategy and serve some original content to the audience.