The Hunt For Veerappan, a new documentary now has a thrilling trailer that teases the manhunt that took place in order to apprehend one of the most notorious criminals of our country.
In the video that has been released, we see the former minister of home affairs, LK Advani, talking to the media about how the problem has attracted the government's attention on a national scale. In the meantime, a number of voiceovers try to explain to us that Veerappan was not merely a person but also a singular phenomenon who had earned the moniker "the Robinhood of India" by some.
Netflix shared the teaser with the caption, "The journey from a smuggler to a legendary bandit, and the infamous chase that had the whole country watching. Catch #TheHuntForVeerappan, premieres 4th August, only on Netflix. Available in English, Hindi, Tamil, Telugu, Kannada, Malayalam."
Reacting to it, one said, "Just A Few Days Ago I Heard His Story And Watch Movie By His Name , He Is A Very Dangerous Guy , This Will Be Amazing To Watch."
Another added, "A Bandit, a local hero, a man who lived in forest but lived by his own morals! Veerappan is a Robin Hood, who robbed forest and government and gave it back to tribal people and villagers! He killed the officers who abused women! A hero and a villain."
A third wrote, "One of the biggest mistakes he did in his life was, kidnapping Kannada Superstar Dr. Rajkumar!"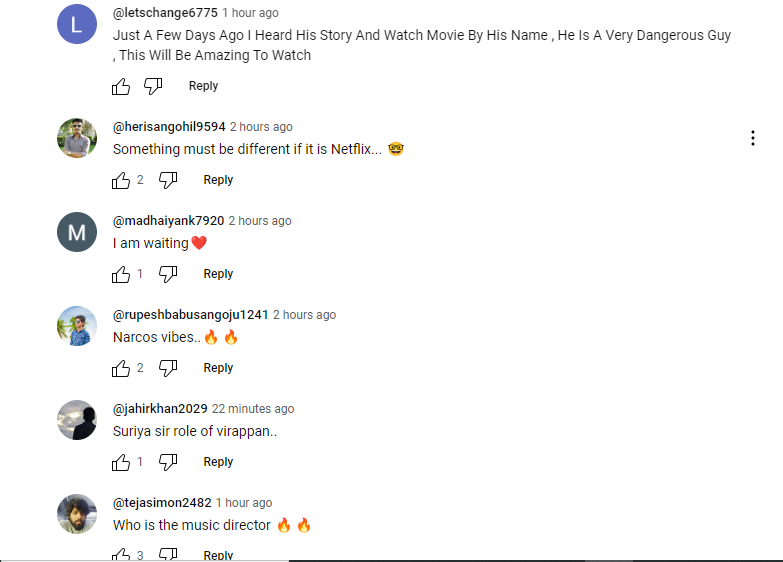 The official synopsis for the show reads, "For 17 years, Veerappan was the subject of India's longest and costliest manhunt. The cinematic series delves into the unseen and unheard, presenting firsthand accounts from individuals close to Veerappan and those who tirelessly sought to capture him. From shedding light on the authorities' struggle to apprehend him to providing a political and social commentary that reveals the politics of disparity, the docu-series unravels his captivating tale and the disorder that ensued."
Director Selvamani Selvaraj said in a statement, "For years, we had heard tales about Veerappan's notoriety, yet no one truly knows what made him the dreaded criminal that he became and still be known as the Robin Hood for a section of the society. In this docu-series, through meticulous research, we have been able to dig deep into his complexities, unearthing untold stories and unexplored facets of his life. Our partnership with Netflix has allowed us to unravel the enigmatic personality and contribute to a broader dialogue that transcends Veerappan's individual story."
The Hunt For Veerappan releases on August 4 on Netflix.