Sunny Deol is all set to arrive with his much-awaited film, Gadar 2. Directed by Anil Sharma, the film brings back the old cast including Ameesha Patel and Utkarsh Sharma. Recently, the trailer of Gadar 2 was released with pomp and show but what went wrong was a statement that Deol gave at the event.
A sequel to 2001's 'Gadar: Ek Prem Katha', Gadar 2 will feature Deol crossing the border of Pakistan once again

, but this time, to save his son.
While speaking at the event, Deol who is himself a BJP MP was heard saying in Hindi, "There is love on both sides (India-Pakistan). It is the political game that creates all this hatred. And you will see the same in this film as well that the people do not want us to fight with each other."
Soon after his remark made it to the internet, it made a lot of people upset mostly because the occasion was of Kargil Diwas.
The country which has its sentiments attached to this day didn't appreciate the appraisal of Pakistan. One user commented, "Was it necessary to praise Pakistanis on the eve of Kargil diwas where we lost many of our jawans against Pakistan?". Another said, "Come out of your cave, Sunny Deol. Go and visit a camp of Pakistani Hindus."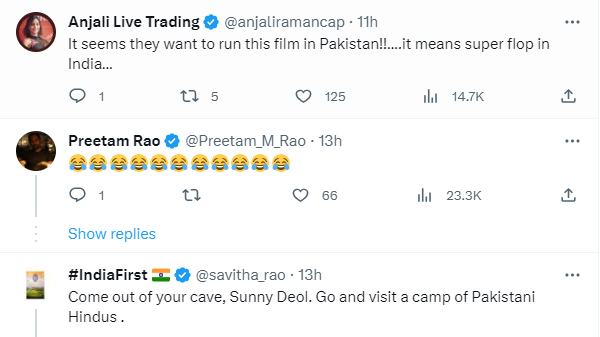 The captivating trailer offers a glimpse of Tara Singh defending his country and family's honour. It presents him in a formidable and action-packed avatar, building anticipation for the highly awaited legacy sequel of the year. The trailer further highlights the awe-inspiring continuation of Tara Singh and Sakeena's legacy during the tumultuous 'Crush India Movement' of 1971.
Also Read: 12 Star Kids Who Didn't Make It As Actors But Are Running Multi-Crore Business
With powerful dialogues and high-octane action involving military tankers, trucks, and the iconic hand pump, the film promises an intense and thrilling experience. Deol during the event said, "I am highly grateful to the fans for their unwavering support for Gadar: Ek Prem Katha and I assure that Gadar 2 will deliver double the action, emotions, and entertainment."
Ameesha Patel who will relive her iconic character of Sakina spoke about how Gadar was termed as a 'gutter'

by bigwigs of the industry.

She quoted during the trailer launch, "It really hurt me, I thought I won't be dejected but in fact, work harder. When Gadar 2 was in talks, the same conversations started happening. 'Dude, have you seen yourself on Instagram?', that a girl who did Lazy Lamhe, how can she do Gadar now?"

Also Read: 8 Good Bollywood Movies That Were Ruined By Bad Climaxes

"How will she play a mother to a boy in his 20s? Those same questions were raised. But I just had to do it. We kept doing look tests for hours on end. Finally, I got a text from Anil Sharma, who wrote, 'My precious Sakina is back.'"