Fans of Milind Soman and Raveena Tandon are in for a ride!
On its YouTube account today, streamer released the One Friday Night official teaser. Lata Verma, who is denied marital bliss, is portrayed by Raveena in the project. Her husband, who is represented by Milind Soman, thinks her husband is cheating on her.
Check out the teaser here
Reacting to the teaser, one wrote, "Counting down every moment for this much awaited masterpiece..! Can't wait to witness the magic on the screen manish gupta sir...!"
A second added, "Only for RAVEENA ma'am."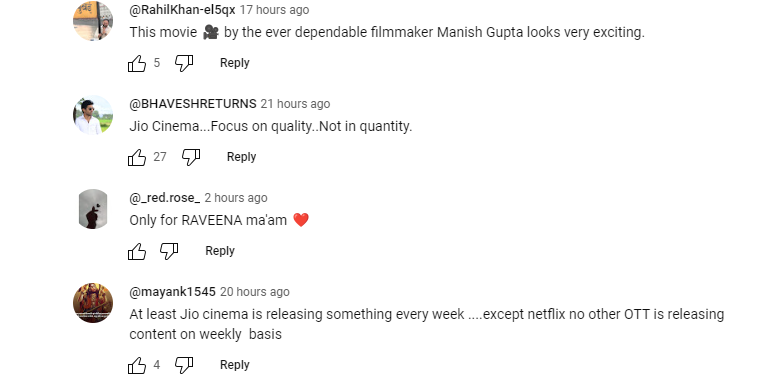 The July 28 release date has been announced for the upcoming romantic drama "One Friday Night" directed by Manish Gupta and starring Raveena Tandon and Milind Soman.
This indicates that Rocky Aur Rani Kii Prem Kahaani, starring Alia Bhatt and Ranveer Singh, will be released on the same day as the movie.
According to Hindustan Times, In the movie One Friday Night, Raveena plays a gynaecologist with a practise in Pune, while Milind Soman plays her spouse. It also features Vidhi Chitalia, who is 25 years Milind's junior and serves as his extramarital love interest. A mistress is obliged to phone her lover's wife following an unpleasant incident in the story, which takes place on a stormy night in a remote villa on top of a hill.
Director Manish Gupta, talking about the project, said as per a press release, "Narrated through this haunting setting, the story of the film is about 'home-breaking' caused by single young females targeting older and rich married men – that has become a common phenomenon today. Sadly, these young and single women who unabashedly seduce married men have no consideration whatsoever for the families whose lives they are destroying forever. Strangely, such 'home breakers' inside their minds do not think that they are doing anything unethical. They feel that if the man is willingly leaving his wife and coming to live with his lover, that means he's not happy in his marriage."
The film is all set to release on July 28th on Jio Cinema.
Also Read: 7 Recent Bollywood Movies That Made Us Say 'Naam Bade Aur Darshan Chote'