In a new Kalkoot teaser, Vijay is seen carrying a book for being an 'asli mard.'
As per him, an 'asli mard' does not apply cream, face wash or body moisturizer, and if they do, people will doubt their manhood.
Thirdly, he notes that women have the option to cover up if they so choose, adding, "Humara toh khoon hi garam hai. Kisi ke kaaboo main nahi hum jazbaaton mein behte hai jo apni marzi chalaye sab par mard usi ko toh kehte hai." He continues, "We walk on these rules all our lives to become real men, but we grow distant from others." Just what do we get?
He goes on to add that we give up our humanity to become true men. It is time to change and let's change the rule book.
In the eagerly anticipated crime drama "Kaalkoot," Vijay plays the role of Ravi Tripathi and exhibits a similar philosophy.
Reacting to this teaser, one wrote, "His acting + dressing sense is what everyone loves!!"
Another added, "Bhai aapki acting achhi lagti hai par aap aise bakch*di mat kiya karo."
A third wrote, "@itsvijayvarma why is the lamp shade tilted?"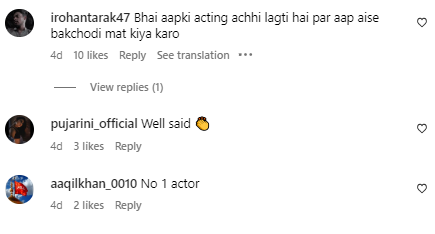 The show 'Kaalkoot' also aims to elicit discussion on how societal standards and systematic oppression contribute to horrible crimes through its compelling tale. It serves as a potent reminder that real strength comes from confronting ingrained patriarchal notions and destroying toxic masculinity.
Talking about playing a cop after many negative roles, he told the Free Press Journal, "It feels so good to be on this side to be honest. The teaser is not half as good as the show, there's a lot more to it. I am glad it is being well received. I am extremely passionate about the show. This is probably one of those shows that I did for my heart. The kind of study it did through the events shown in the show is phenomenal."
The show will be directed by Sumit Saxena, who has written films including Doctor G, starring Ayushmann Khurrana, Hamid, starring Rasika Dugal, and Pyaar Ka Punchnama, starring Kartik Aaryan. The online series also features Shweta Tripathi as a lead. Seema Biswas, Yashpal Sharma, and Gopal Datt all play significant parts.
'Kaalkoot' is set to stream on Jio Cinema from July 27.