When it comes to misogyny, patriarchy and sexism, Bollywood has a huge problem. Even though the times have changed and many movie makers have delivered some progressive and bold female protagonists, but it is quite disgusting how there are still many movies, where Bollywood promoted female characters as dumb and stupid.
Here are 7 obnoxiously dumb female character in Bollywood movies that shows how Bollywood could do better job at writing female character.
1. Jaya Bachchan's Nandini in Kabhi Khushi Kabhie Gham
Nandini (played by Jaya) is shown as a sentimental, overly emotional and mute mother who is married to a egoistic husband, who let go of his own son because. All because the son married woman below his class and status.
While Nandini husband chooses class and status over his own son, she still follows his patriarchal rules. She keeps crying or yearns for her beloved son to come back home but never gathers courage to stand up for him and her own desires and wishes.
2. Jacqueline Fernandez's Alishka in Judwaa 2
In case you are lucky enough, then you might not have watched this disappointing movie. But in case you have, you'll know that Prem and Raja are twin brothers separated at birth whose reflexes operate simultaneously when in close physical proximity.
Without any exaggeration, literally everyone in this movie is awfully dumb. But it's women characters that are written to redefine stupidity. Even though Jacqueline a.k.a Alishka is in love with Prem, she fails to even notice that he acts like a buffoon when around her.
But, what is shocking is the fact that even during an intimate day when she spends time in a bathtub with both the brothers, she never realises that there are two of them! While both the brothers act so differently but the character Alishka is expected to be so dumb that she never notices the difference!
3. Amrita Rao's Sanjana in Main Hoon Na
Sanjana, played by Amrita Rao, falls for the boy Laxman, who is so shallow that he believes in superficial beauty. Sanjana is shown so desperate to win Laxman's affection that she prefers to change herself completely. She transforms herself to a girly girl in a pink salwar suit just for the man who believes beauty is external and refuses to see her good heart! Bollywood, you can definitely write better characters!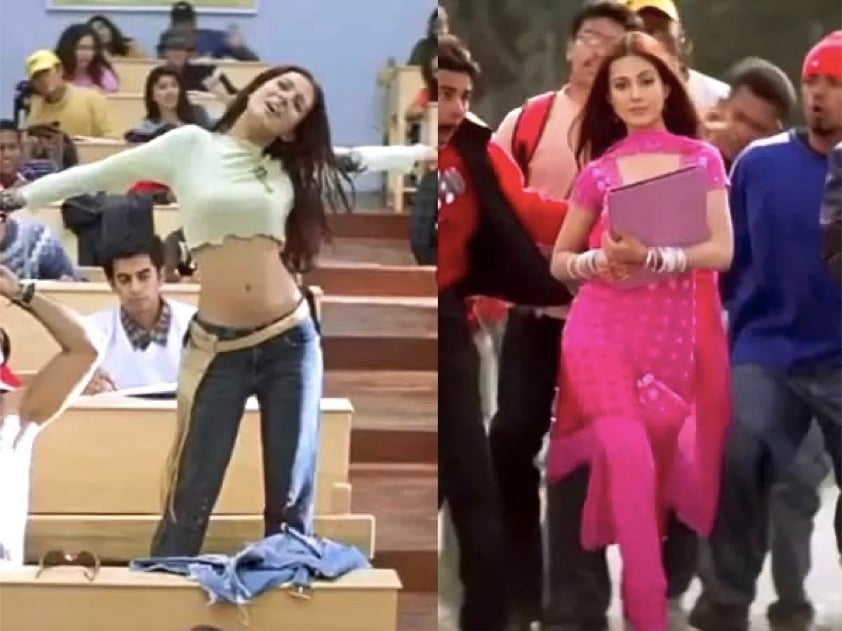 4. Asin's Kalpana in Ghajini
Shown as a struggling model, Kalpana has a maturity of a teenager. She constantly keep blabbering just to prove her innocence. She falls in love with a complete stranger, without knowing anything about him. He could be a stalker, killer or psychopath, but who cares? She spends days with him without suspecting that he is a famous multi-billionaire tycoon, Sanjay Singhania, who may have probably appeared at multiple places in the media. In the society, where women are so unsafe, how you can write a female character, who is as naïve and stupid as Kalpana! Dear Bollywood, ask real women about how much time do we spend on background research before going out with a man!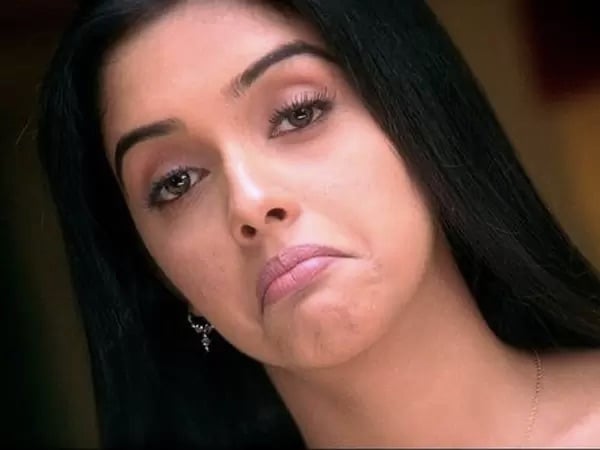 5. Anushka Sharma's Taani in Rab Ne Bana Di Jodi
The queen of stupidity – Taani is a character, who is an unhappy in her marriage to slobby Suri. So, she starts having an extramarital affair with her slobby husband Suri but this time without the moustache. And, Taani is shown so stupid that she fails to recognise her own partner with and without a mere moustache. But what is even worse is that Taani actually falls for a man who is a total roadside Romeo.
6. Preethi (played by Kiara Advani) in Kabir Singh
Even after cracking one of the toughest exam of MBBS in India, sadly the character of Preethi is shown as a complete idiot when it comes to love. She has been reduced to an object that Kabir Singh owns. Kabir kisses her without her permission, he decides everything for her, still she falls in love with this toxic character, who has no respect for her consent.
She has no self-respect and is okay to be with the man who reduces her entire identity to just being 'his girl'. Even when Kabir slaps her and gives her an ultimatum of six hours to convince her parents in favour of their relationship, she doesn't seem to care that she was physically assaulted by her boyfriend.
Rather, in the next scene, we see her angrily declare to her family that she and Kabir had been under the sheets hundreds of times. We wonder why she would think that an account of her sex life will be a convincing proof for her parents that Kabir is a good match for her. But nonetheless, throughout the movie this character continues to behave in such idiotic ways.
Dear Bollywood, please stop writing women from patriarchal society's lens. Rather than showing us meek and patriarchal portrayal of women, show us the strong, independent, fierce, intelligent women of 21st century on the big screens!